Sixth Form Extra-Curricular Activities
Extra-curricular opportunities are an extremely important feature of life at Manchester High School for Girls and this continues into the Sixth Form.
Be Part of a Highly Motivated Community
We believe that the confidence and enjoyment gained from extra-curricular activities and achievements, along with being part of a highly motivated community, underpin academic fulfilment.
---
Extra-Curricular Opportunities
There is a wide range of extra-curricular opportunities open to students, ranging from sport and music, to science and the creative arts. Involvement in extra-curricular activities is important in developing the confidence and interpersonal skills necessary for personal and professional fulfilment. Students are encouraged to participate in at least one extra-curricular activity. Extra-curricular engagement teaches them to manage their time effectively, so that they do not fall behind in their academic work.
Students may join the Duke of Edinburgh Award scheme or take part in the Young Enterprise scheme or the Community Sports Leaders' Award. There is also the opportunity to participate in the Mock Trial Competition and in the Model United Nations conferences.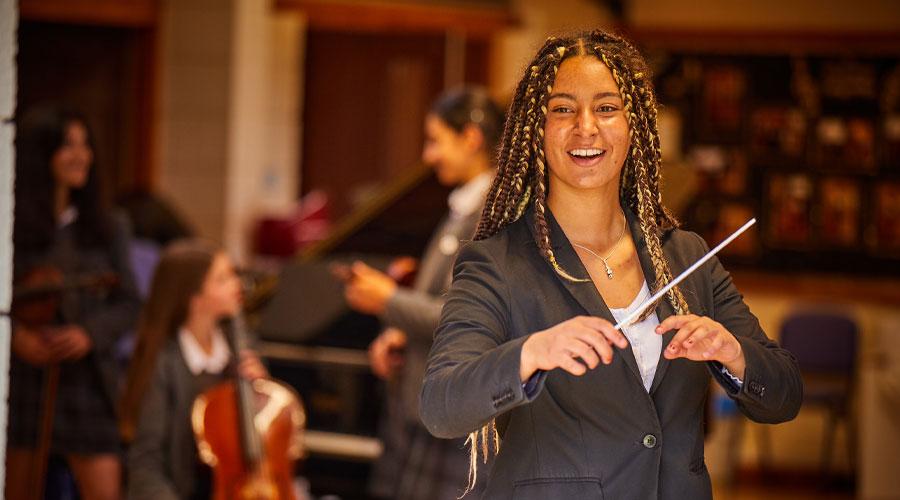 Sixth Formers can enjoy theatre visits to London, Stratford and beyond, as well as occasionally collaborating with The Manchester Grammar School on theatre productions. They may also become members of one of the many choirs and instrumental groups. These too provide opportunities to work with students from MGS.
Sixth Formers can take part in international sporting and cultural visits, philosophy and debating societies, art exhibitions, concerts and school productions. They also enjoy visits from speakers as diverse as charity representatives, MPs, journalists and motivational speakers.
To view or download our Extra-Curricular Information Booklet, please click below.
Extra-Curricular Information Booklet | PDF
---
New Clubs & Societies
In addition to sporting and musical activities, students may participate in, or organise, clubs and workshops in Literature, Debating, Drama, Art, Technology, Film or Science. Editorial teams of Sixth Formers also produce the award-winning school newspaper, 'Onward'.
---
Extra-Curricular Activities
We have over 40 extra-curricular activities on offer in our Sixth Form, including:
Advanced Chemistry Club
Badminton
Book Group
Choir
Christian Union
Climbing Club
Creative Writing Club
Debating Society
Duke of Edinburgh Award
Ethics Matters
Fitness Suite
Gymnastics
Hockey
Life Drawing
Model United Nations
Music Theory Class
Netball
Orchestra
Phil Soc
Swimming
Theatre Society
Water Polo
Wind Band
Young Enterprise
---
Music and Speech & Drama Lessons
Tuition in Speech & Drama lessons and Music leading to LAMDA or Associated Board examinations is available as an additional chargeable option.
---
Leadership Opportunities
Head Girl Team
Introducing our Head Girl Team for 2023-24!
Congratulations to Natalie and her team; Arwa, India, Aishah, Tanatswa and Emilia.
They have chosen to focus their work on the theme of 'Empowerment' in the lead-up to and throughout MHSG's 150th year.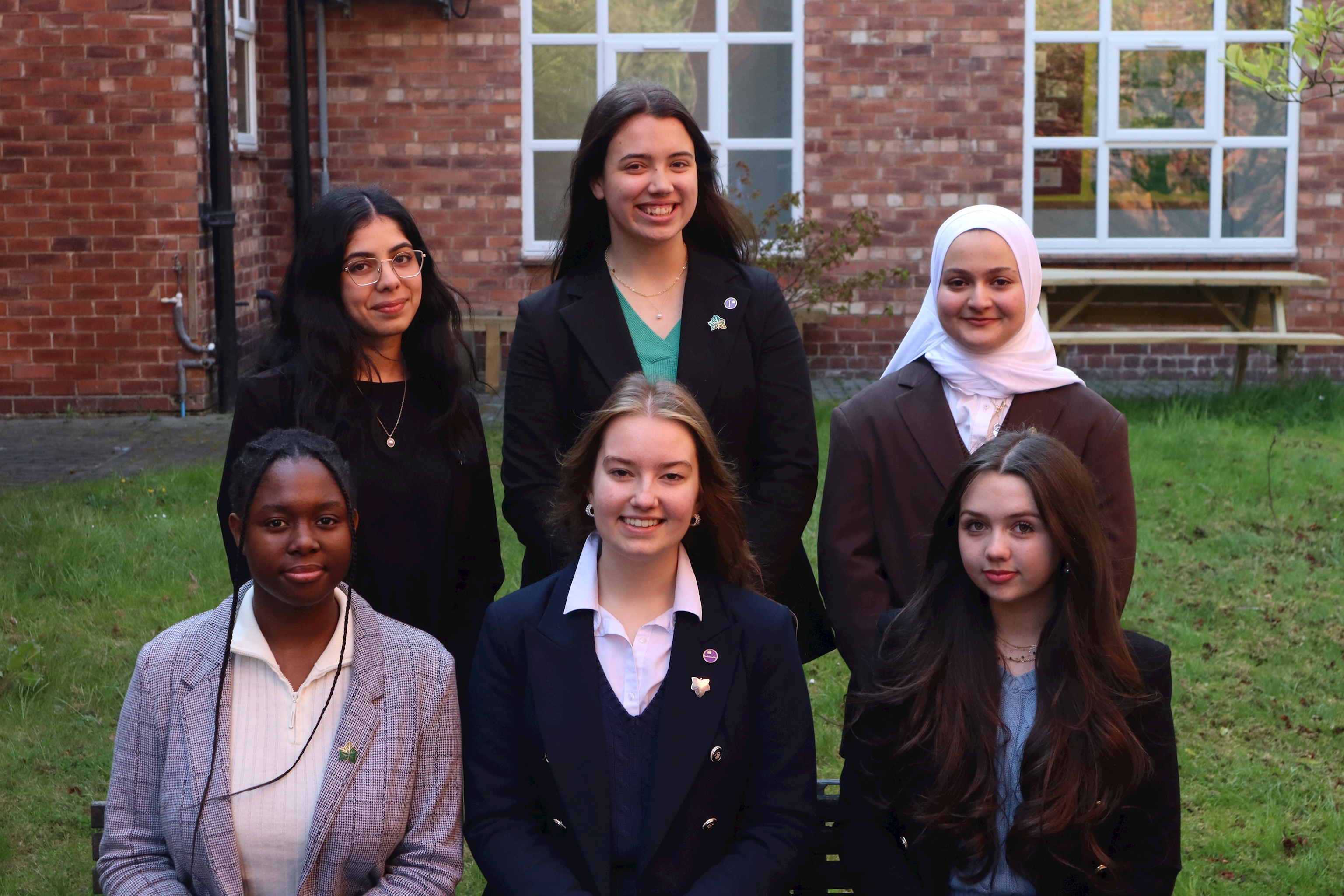 Natalie, current Head Girl, said: "Within the confines of our school, it is vital to create a culture of self belief: one that places achievement and the celebration of our achievements on an equal standing. I overcame my immense fear of public speaking at Manchester High, I feel empowered - and the opportunity to do so should be extended to every Manchester High pupil.
"For 150 years, Manchester High has been empowering its students, we want to see the continuation of self empowerment beyond the school gates, so that every student can make their mark on the world.
"Theodore Roosevelt famously said: 'Believe that you can, and you're already halfway there.' This captures the very essence of our theme of Empowerment and what we hope to continue to achieve as we celebrate 150 years of Empowering girls since 1874." - Natalie, current Head Girl.
The School offers a wide range of cultural, creative and leadership roles and responsibilities, all of which extend the curriculum outside the classroom and foster strong friendships.
Sixth Formers are invited to apply for leadership posts, many of which involve working with younger students.
All Sixth Formers also have a role to play in carrying out essential school duties, which enable them to contribute to the School and foster links with staff and students.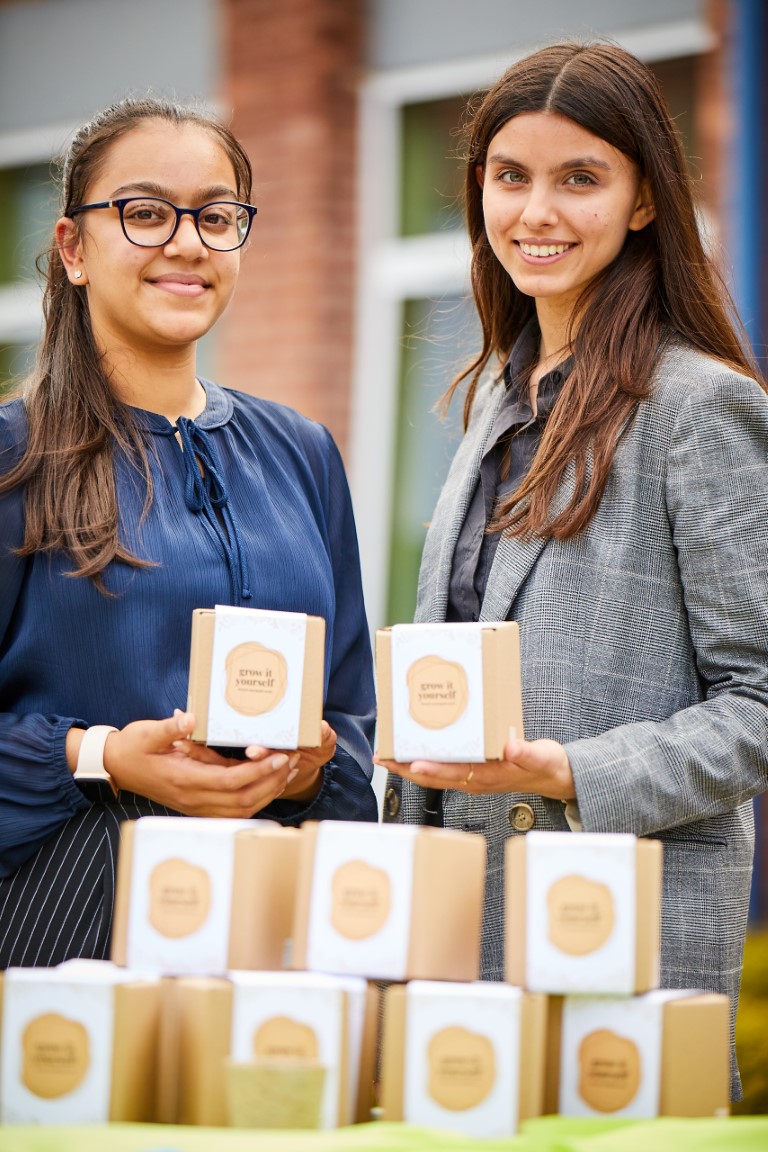 The following list highlights some of the leadership roles available to Sixth Formers:
Assembly leaders
Diversity and Inclusion Captains
House Captains and Deputy House Captains
Head Girl Team
Lower School subject clinic helpers
Library supervisors
Literacy leaders
Subject mentors
Form prefects
Preparatory Department reading assistants
The Primary School Outreach Programme
Preparatory Department Science Club
School Ambassadors
Swimming Assistant