Exam Results & University Destinations
Our students consistently perform at an exceptional level in their A-level and GCSE examinations. Manchester High School for Girls was recognised as the Sunday Times Northwest Independent Secondary School of the Year 2019 and was Shortlisted for the Independent Girls' School of the Year 2023 award by Independent Schools Magazine.
Between 2020 and 2023, an average of 85.1% of our students' A-level grades were A*-A and 90.2% were A*-B.
A-levels
The second year group of students to sit A-levels without having sat a full set of GCSEs have every reason to celebrate.
A total of 46.6% of our A-level grades were A*/A in August 2023, and 78.4% were A*-B.
We are also delighted with the huge array of courses our students are going on to study next year. From courses in Aerospace Engineering, Veterinary Science, Medicine, Computer Science, Pharmacy, Economics, Zoology, Mechanical and Chemical Engineering, Neuroscience, Dentistry, Music, Law, Politics, Modern Languages, Business, History & International Relations, Graphic and Communication Design and so many more, the wide range of interests our students have in school are matched with their university choices.
Well over 50% of our students are going on to study STEM related courses at university with an equally impressive number going onto study languages and a variety of Humanities courses.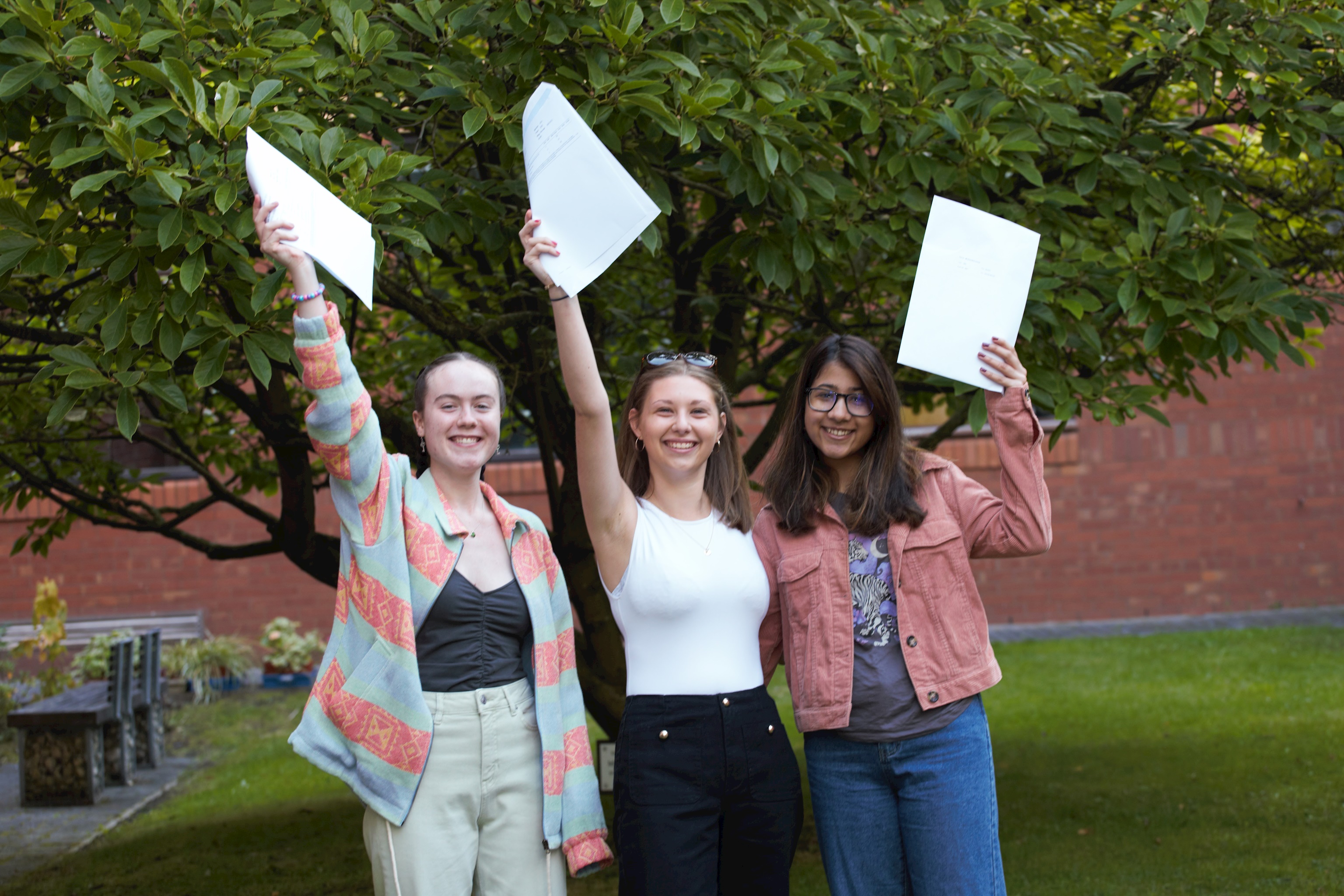 Catrin Barrowcliff, a member of the Head Girl Team who achieved A*AA and will be studying History and Spanish at King's College, London, said: "The teachers always go the extra mile, they've been amazing. I'm so pleased with my results!"
Prestigious universities such as King's College London, Oxford, Leeds, Manchester, Bristol, Nottingham, Birmingham, Warwick, Durham, Bath, Valencia and St. Andrews will be welcoming our students.
Congratulations to all of our students; we are incredibly proud of them and the manner in which they have faced the challenges of sitting external examinations this year.
Mrs Helen Jeys, Head Mistress, said: "The grades our students have achieved, after these turbulent few years are the consequence of their fantastic work ethic and positive approach to study as well as the care, support and superb teaching of the staff here. I could not be prouder of our Class of 2023.
"The sheer breadth of subjects and destinations our students are going on to demonstrates their individuality, which is one of our values and something we nurture in all of our students. Our Senior Sixth students are a talented, conscientious, inspiring and resilient group of young people who will, I am sure, continue to challenge and excel in their chosen fields. We look forward to seeing them continue to flourish as they progress beyond the school gates."
Eve Pessagno, former Head Girl, achieved A*AA and is off to study Music at Lady Margaret Hall, Oxford. She said: "It's been fabulous, I joined MHSG in the Sixth Form and I was welcomed as one and the same. The support has been amazing."
For parents accompanying their children to collect results, the relief was palpable.
When asked what the best thing about being a Manchester High parent was, Professor Lynne Bianchi, Eve's mum, said: "The support has been fantastic. You know how to educate young women to excellence and that's why both of my other children will be coming to MHSG."
Applications for September 2024 entry into MHSG's Sixth Form will open at the end of September 2023.
Mrs Jeys added: "Every year at Manchester High we speak to driven girls who want to see what our high performing Sixth Form can offer them. We will be available on GCSE results day so that girls can explore their options."
Registration for our September and October events is now open. Please visit our Open Events page to register to attend.
Thursday 28th September 2023 (5pm-8.30pm) - Sixth Form Open Evening
Thursday 12th October 2023 (6pm-8.30pm) - Senior School Open Evening
Monday 16th October 2023 (10am-12.30pm) - Working Day Tour
Saturday 11th November 2023 (9.30am-12.30pm) - Whole School Open Morning
Friday 17th November 2023 (10am-12.30pm) - Working Day Tour
Saturday 18th November 2023 - Reception Stay & Play Morning
Saturday 9th March 2024 (9am-11.30am) - Preparatory Department Open Morning
For more information or to register for one of the school's open events, visit our Open Events page here, call 0161 244 0447 or email [email protected].
---
GCSEs
Our 2023 Year 11 students have performed exceptionally well, too.
A total of 45.6% of all grades awarded were Grades 9-8 and over 76% of all grades are at the highest level of 9-7.
Almost a third of the year group achieved straight Grades 9-7 across all of their subjects.
We are also delighted that students who took Additional Maths and Intermediate Greek, in their own time, achieved outstanding results.
Congratulations also to our 2023 Year 10 students for their superb HPQ and GCSE Religious Studies Short Course results.
A total of 100pc of all Religious Studies grades were Grades 9-7, 100pc of all Music grades were Grades 9-7, 96.2% of all Drama grades were 9-7, 81.4% of all Geography grades were 9-7 and 86.7% of Latin grades were 9-7.
MHSG's dedicated team of teaching staff have supported all of our students in achieving their super examination results.
GCSE results from 2023 were a real testament to the hard work and dedication from both our Year 11 students and staff here at Manchester High School for Girls.
Head Mistress, Mrs Helen Jeys, said: "Our Year 11 students are remarkable, tenacious young people and, despite the enormous challenges of the past few years, they have worked so hard to achieve the results they deserve. I am delighted with the fantastic news that the vast majority will be continuing their educational journey in our Sixth Form where they will be studying a wide variety of subjects in our purpose-built Sixth Form centre."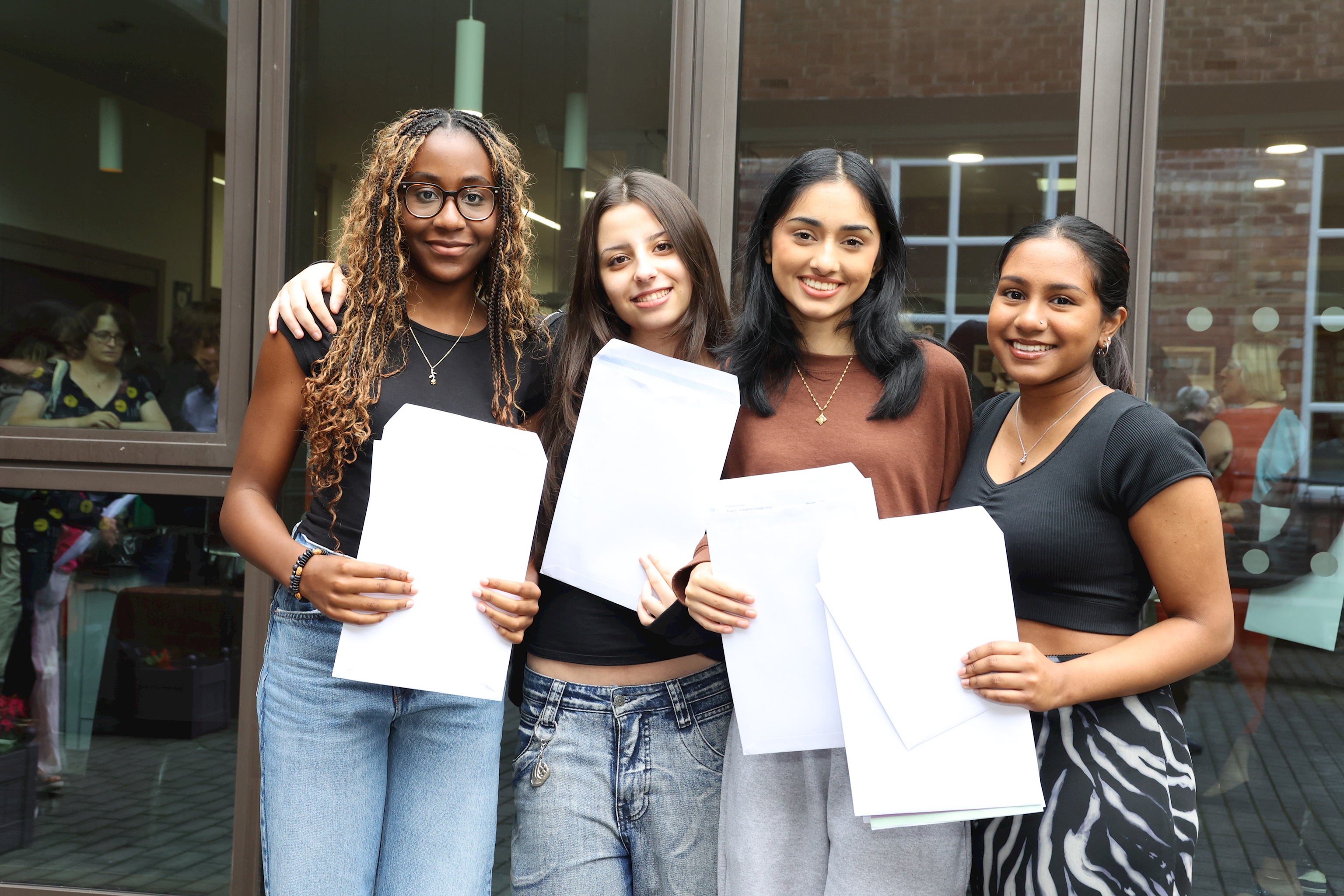 ---
University Destinations
Most students go on to study at highly selective higher education institutions.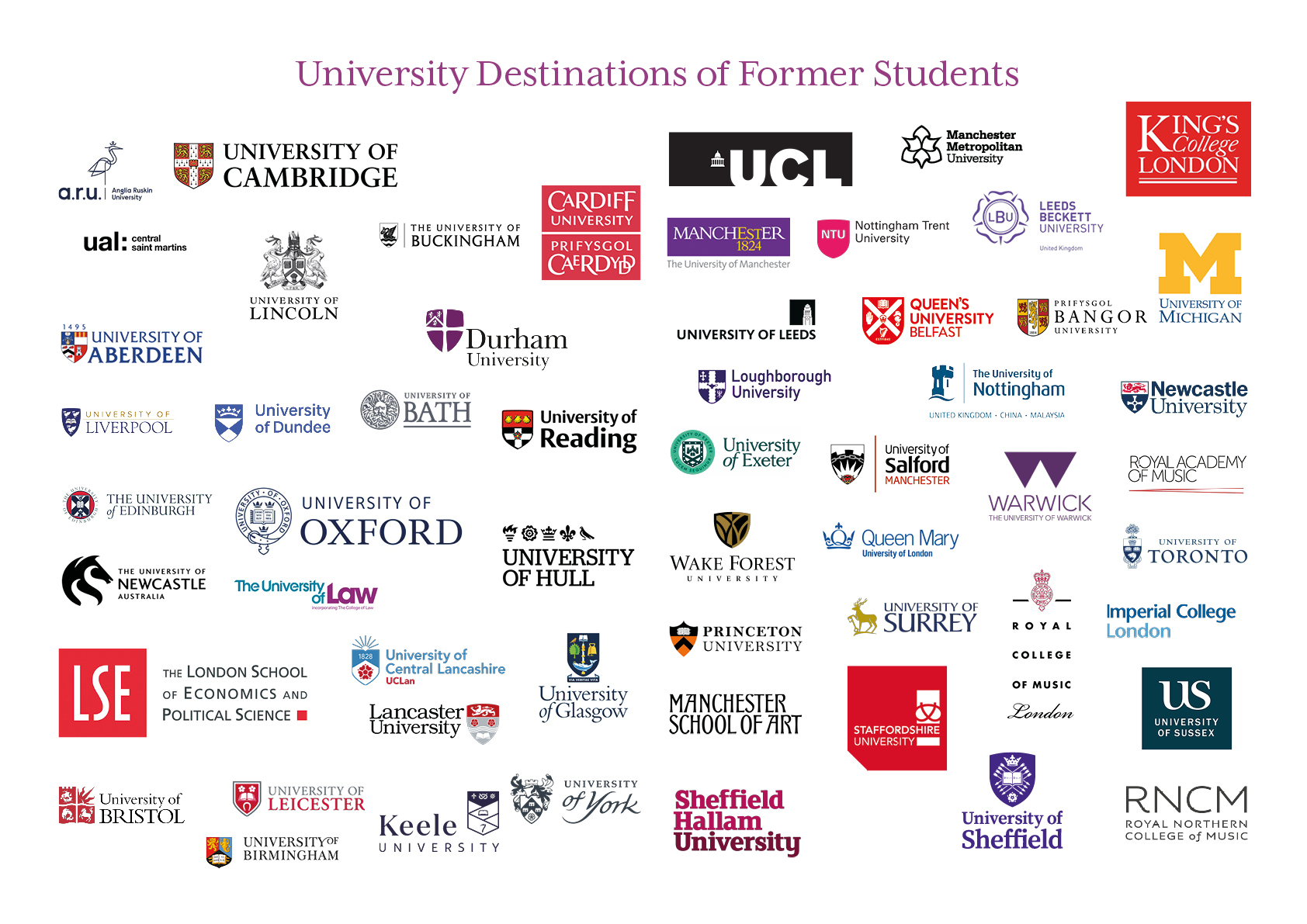 Our Class of 2023 went on to complete courses at the following universities:
| | |
| --- | --- |
| Cardiff University | University of Central Lancashire |
| Durham University | University of Glasgow |
| Keele University | University of Hertfordshire |
| King's College London | University of Hull |
| Kingston University | University of Kent |
| Lancaster University | University of Leeds |
| Liverpool John Moores | University of Leicester |
| London School of Economics & Political Science | University of Liverpool |
| Loughborough University | University of Manchester |
| Manchester Metropolitan University | University Nottingham |
| Newcastle University | University of Oxford |
| Northern School of Dance | University of Plymouth |
| Northumbria University | University of Sheffield |
| Nottingham Trent University | University of St Andrews |
| Queen Mary University | University of Sunderland |
| Sheffield Hallam University | University of the Arts, London |
| St George's, University of London | University of Valencia |
| Swansea University | University of Warwick |
| University of Bath | University of York |
| University of Birmingham | |