A high standard of personal appearance is expected from all Manchester High pupils and uniform should be clean and well maintained.
School uniform is compulsory.
Sanctions, including after-school detention, may be imposed for infringements of uniform regulations. The Head Mistress reserves the right to send home any girl who does not comply with the School's requirements. The School will contact parents if this situation arises.
Students are required to wear the School uniform throughout the day when travelling to and from school and on all occasions when they represent Manchester High off-site. Girls in Year 10 and 11 sitting examinations are expected to wear full School uniform. They must also be in uniform if they are using School premises for study during examination periods.
All items of clothing and equipment should be clearly marked with the owner's name. Manchester High cannot accept responsibility or liability for the loss, theft, or damage of personal property. Pupil's clothing, equipment, and possessions are not covered by the School's insurance.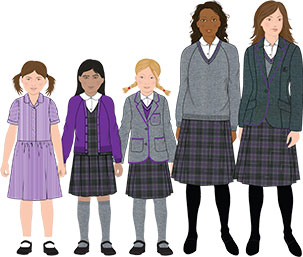 ---
Sixth Form Dress Code
To recognise the growing maturity and individuality of Sixth Form students they are not required to wear school uniform.
They are expected, however, to dress in a manner appropriate to their position as senior members of the school community and role models for the younger pupils.
Sixth Form Dress Code 2022 Onwards | PDF.
Smart and positive image
Sixth Formers must adhere to some basic standards in their appearance so that they promote a smart, positive and business-like image.
It must also be ensured that no student is wearing footwear which may cause a health and safety risk either to themselves or other members of the School.
Students should wear:
A suit consisting of a jacket and skirt, trousers or dress of appropriate material
Suit trousers that are three-quarter length, ankle length or full length
Skirts or dresses of a suitable length and material; no body-con and no shorter than just above the knee
A plain or patterned blouse or top of any colour. Blouses or tops must not have words or insignia on them; they should not be revealing
Smart, professional shoes or boots
Discreet make-up
Piercings in the ears only
Hair of a natural colour
Traditional dress may be worn in place of a suit
SUIT JACKETS MUST BE WORN AT ALL TIMES IN SCHOOL
Appearance should be professional, mature and representative of Manchester High School for Girls.
---
Stevensons
Uniform outfitters, Stevensons, are the supplier of new uniforms, accessories and sports kit for Manchester High School for Girls.
Ordering uniform
For a full uniform list, including prices, please view the below attachment.
MHSG Stevensons Uniform Brochure PDF.
Parents can place uniform orders with Stevensons either online or by telephone.
For parents wishing to purchase online, there is a very simple registration process to complete at:
www.stevensons.co.uk. You will then have access to the full uniform range online.
Telephone orders can be made by calling 01727 815 700 (9am to 5.30pm, Monday to Saturday).
Uniform pop-up shops
A Stevensons pop up uniform shop is held in July in the School dining room, when the full selection of uniform, sportswear and accessories, in all sizes, is brought to School. Girls are able to try garments on for size and parents receive advice from Stevensons' Customer Service Team about the fit of garments and aftercare.
Dates and timings will be confirmed in due course for our next uniform pop-up shops, which will be held in school.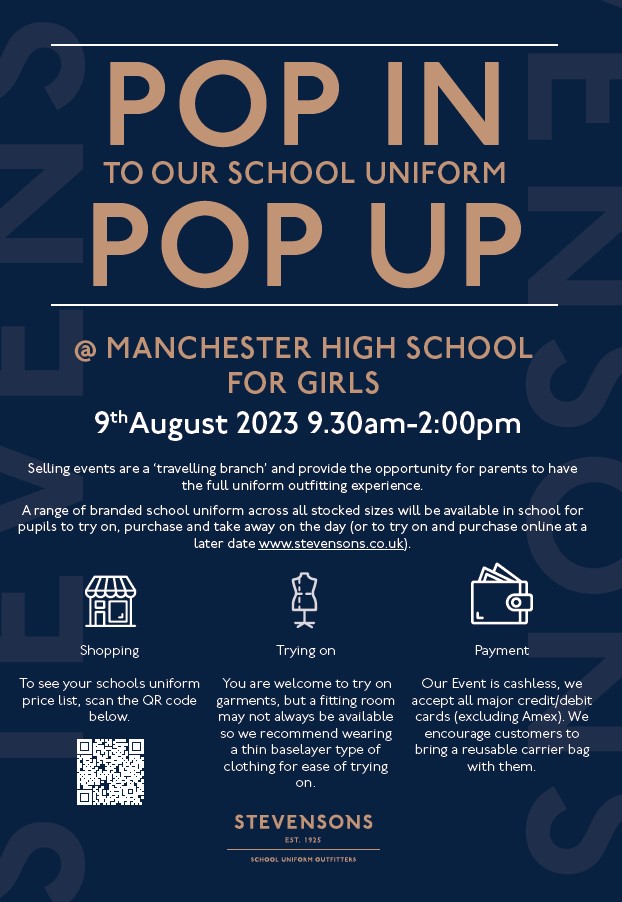 Changing rooms and till points are usually set up, and parents can pay by card (not AMEX) or cash.
These events enable you to leave with as little, or as much, of the uniform as you choose at this stage. For many, this will simply be an opportunity to see the uniform and note the fit on your daughter, leaving you confident to place subsequent orders online or by the phone later in the summer and throughout the year.
Pop-up shops work on a drop-in basis. There is no need to make a specific appointment.

---
The Pre-loved Uniform Shop
The PTA Uniform Shop normally takes place in School on the first Wednesday of each month.
The next pre-loved uniform sale will be held in the School's Dining Room corridor on Wednesday 6th December (1.30pm-3.45pm).
The shop carries stock of high quality second-hand Prep and Senior School uniform items. Stocks are currently not extensive, although the PTA expects them to grow.
Second-hand uniform is one of the main fundraising activities for Manchester High's Parent Teacher Association (PTA).
The PTA is working hard on creating an online shop, where parents can buy pre-loved uniforms and other merchandise. Further updates will be available on the School website's PTA page.
Donations
The shop relies on the kindness of parents to donate their unwanted uniforms and every penny goes straight to the PTA and the School's Bursary Fund. Please drop clean and washed uniform at Main Reception or Prep Reception to donate.