Manchester has a thriving arts and culture scene and is home to art galleries, theatres and museums that attract international performances and productions.
EXTRA-CURRICULAR INFORMATION BOOKLET | PDF
With so much creativity on our doorstep, our pupils are given every opportunity to explore the performing, visual and creative arts both within school and in the wider community.
Drama
Engaging with performing arts allows our students to explore their emotions, expand their imagination and develop their own, unique voice.
A range of performing opportunities take place throughout the year, including a Cabaret evening, lower school drama showcase, Drama Club productions, a Year 8 Drama interform competition, Sixth Form Play-in-a-Week and Senior and Junior Performing Arts evenings. Our annual school productions combine the talents of our Drama, Dance and Music Departments and are a platform for students to showcase their creativity, whether behind the scenes or on-stage. They are also a fantastic opportunity for students to forge new friendships across the school and develop teamwork, cooperation and communication skills whilst inevitably raising self-confidence and esteem. Past productions have included Chicago, Sweeney Todd, Billy Elliot, Hairspray, Sister Act and Little Shop of Horrors.
The Drama Department provides girls with excellent opportunities in acting, directing, and technical skills through performance and theatre visits.
In addition to curricular and extra-curricular Drama, we offer LAMDA Speech and Drama lessons for individuals, duos and groups; which are extremely popular with girls from Year 2 through to Year 13.
LAMDA examination results equate to UCAS points and therefore benefit students' university applications.
Speech and Drama Lessons
Students can take solo, duo or shared speech and drama lessons within school to gain LAMDA (London Academy of Music and Dramatic Arts) qualifications. Through our sessions, students develop skills for life including clear communication, self confidence and team work, which will help build their toolkit for any future career.
Our teachers offer tuition in:
Public speaking
Speaking of Verse and Prose
Acting
Devising Drama
Miming
Musical Theatre
To enrol your child for Speech & Drama lessons, please fill in the relevant form below and email that form to [email protected].
Speech & Drama Form - Preparatory Department
Speech & Drama Form - Senior School
Our students also take part in external performance competitions, including the Alderley Edge Festival.
MHSG Alderley Edge Festival 2023's Drama performance results:
YEAR 4 AND UNDER DUOLOGUE: Mia and Nyah (Yr3) - 1st place
YEAR 4 SOLO DRAMA AND UNDER: Habiba - 2nd place
YEAR 5 VERSE SPEAKING SET PIECE: Fay -2nd place
YEAR 6 MONOLOGUE: Sophia - 2nd place
YEAR 6 DUOLOGUE: Annalicia and Georgie - 3rd place
SOLO DRAMA YEARS 7-9 (Class 717A): Jessica (Yr8) - 3rd place
SOLO DRAMA YEARS 7-9 (Class 717B): Sophia (Yr8) - 2nd place
DUOLOGUE YEAR 9 AND UNDER: Elena and Martha (Yr8) - 3rd place
SOLO ACTING YEARS 10-13: Ila (Yr10) - 1st place
---
Dance
With styles ranging from contemporary, jazz, musical theatre, hip-hop, street dance, ballet and Bollywood, there are plenty of opportunities for our students to dance! Every year group has its own Dance club in our beautiful mirrored dance studio and the chance to audition for our Junior and Senior Dance companies each autumn.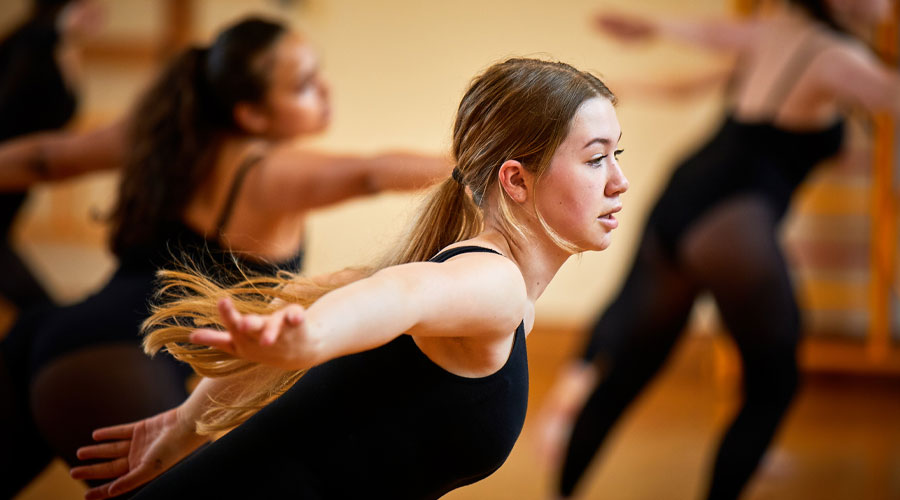 Dance performances include the annual musical production, internal competitions and a Dance Show in the Spring Term which celebrates our talented community. For those students on a Dance Scholarship, there is also the opportunity to lead their own Dance club.
---
Music
A purpose-built music wing provides our Music Department with perfect acoustics and ample space to teach over 20 different instruments. Each week, more than 300 individual instrumental and singing lessons take place in the Department, and a large number of students also participate in our extra-curricular music provision with opportunities for students of all ages and abilities.
A full events calendar gives students the chance to perform; from the monthly Twilight Concerts, Christmas Concert and Summer Soirée to our Celebration & Awards Evening at the Bridgewater Hall and the annual Carol Service at St. Ann's Church, Manchester. Numerous competitions run alongside these events, including the annual Warburton Competition which has run every year since 1935 and is named after former teacher, musician and composer, Dr Annie Warburton.
Ensembles
Chorale (Choir for Years 7-9)
Jazz Band
School of Rock
Senior Choir
Senior Orchestra
Strike! (Mixed ensemble for instrumentalists up to Grade 4/5)
Vocal Group (student-led)
Wind Band
Young Strings
Instrumental Lessons
Piano
Violin
Viola
Cello
Double Bass
Flute
Oboe
Clarinet
Saxophone
French Horn
Cornet
Trumpet
Trombone
Euphonium
Percussion/Drum Kit
Classical Guitar
Electric Guitar
Bass Guitar
Ukulele
Harp
Singing
Bassoon
Tuba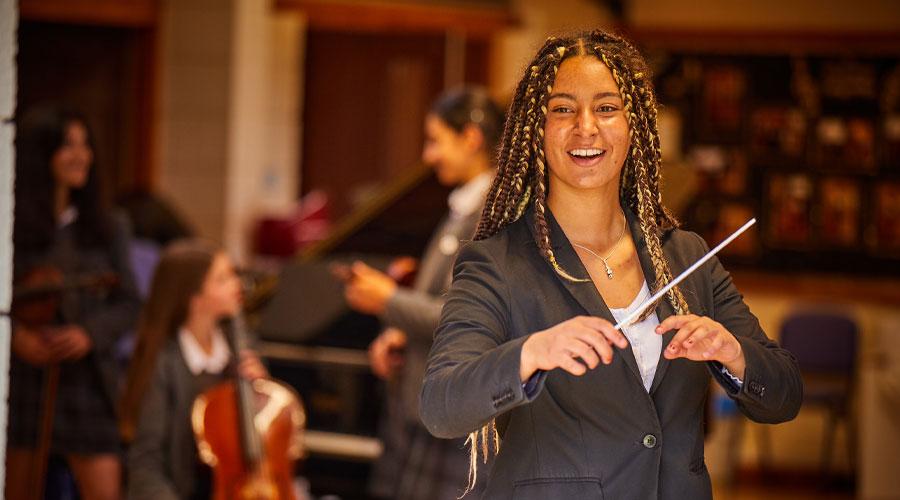 ---
Art
The Art Department provides a space where students have the freedom to express their ideas and thoughts and work creatively to develop their passions.
Extra-curricular classes include weekly life drawing classes for Sixth Formers, workshops for Key Stage 3 students, the annual Year 9 IVYticulation Competition and an Art Award scheme for those wishing to further develop their creative skills.
Some of Our Art Clubs
Junior Art Club for Year 7.
Art Award for Year 8 and Year 9.
After school workshops for GCSE and A-level students.
Life Drawing after school for Sixth Form students.