Environment & Sustainability
Please read on to find out about the School's latest activities, news and events to celebrate and promote Eco Values and Sustainability.
Eco-School Green Flag Award
MHSG's Eco-Committee has been successful in meeting the requirements for the Eco-Schools Green Flag Award.
Many thanks to all students and staff who were involved in this rigorous accreditation process.
The Eco-Schools judges said: "It's wonderful that you have appointed such a representative Eco-Committee, this shows your school's excellent commitment to both the programme and the eco-cause. It's great to see that you had such a group of eager, enthusiastic volunteers.
"Your Action Plan shows that your Eco-Committee have carefully considered how they can involve their entire school in their planned Eco-Schools' activities to achieve maximum impacts and raise awareness amongst their school community.
"We're really impressed at how you've linked environmental issues to a variety of curriculum areas. We loved seeing the excellent photos of your pupil's work and of them enjoying their activities. This is a great example of layering in sustainability and climate change into your studies."
Our Eco Code at MHSG
Across our Preparatory Department and Senior School, we have adopted the MHSG Eco Code.
Our pupils choose three topics to focus on in our Eco Code each academic year.
For the 2022-23 academic year, our themes are Biodiversity, Litter and Waste.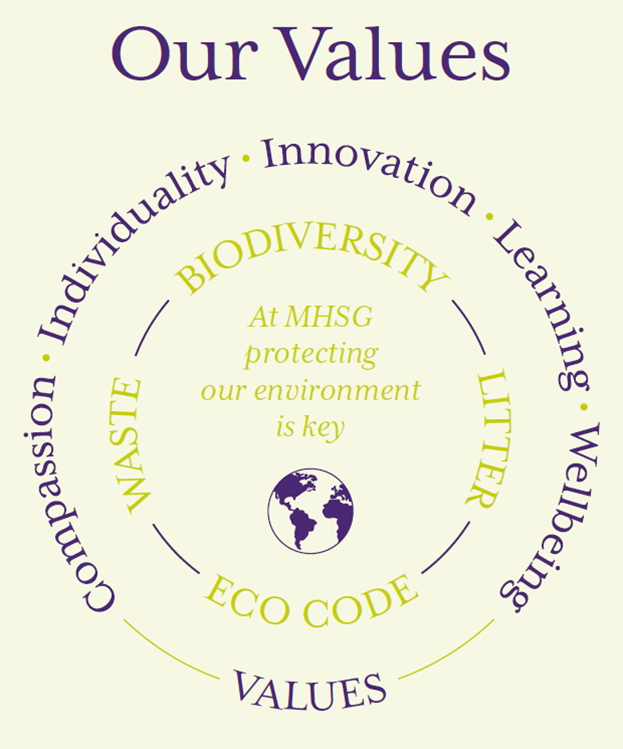 Our Preparatory Department's pupil Eco Representatives focused on answering the following questions to create this academic years' Eco Code:
How do we protect and encourage biodiversity at MHSG?
How do we prevent litter at MHSG?
How we can reduce our waste at MHSG?
From their answers, we have created this year's Eco Code, as below.
BIODIVERSITY
We commit to protect and encourage biodiversity by:
Doing "Park and Walk" when we can;
Increasing the numbers of birdfeeders;
Understanding what animals need;
Finding out more about our environment;
Creating a bug hotel;
Planting more tree and sewing wildflower seeds.
LITTER
We commit to reduce or even stop litter by:
Picking up litter at school and in our wider community;
Recycling and re-using as much as possible;
Doing assemblies on the topic of litter;
Labelling our bins more effectively;
Having more 'no-waste' weeks;
Avoiding plastic water bottles.
WASTE
We commit to reduce our waste by:
Using less single-use plastic;
Organising swap shops;
Keeping communication between school and home;
Ensuring that we use the recycling bins correctly;
Having eco-signs in every classrooms
Among other activities to support our Eco Code, pupils and staff take part in a weekly litter picking club in nearby Platt Fields Park, organise termly clothes swaps, make use of separated general waste and recycling waste bins, avoid printing documents where possible and support local food banks and food collection points to avoid food wastage.
Our brand new servery and updated kitchen facilities are fully electric and we have a bio-digestor food composting facility on site.
Our Marketing & Development Team is in charge of all school merchandise and MHSG branded items are recyclable and/or recycled, where possible.
---
Recycling Stationary
After a successful year of collection, we are going to carry on recycling stationary and empty crisp packets in the 2023-2024 academic year within school.
The collection points are as follows:
The stationary collection box will be in E26, in the Prep Hall and in the Staff Room. We accept the following items for recycling:
The collection box for empty crisp packets can be found in the Dining Room and in the Prep Hall. All crisp packets must be cleaned before being placed in the collection boxes.